The steel structure repair worshop mainly used in the transport company for the reparing of the truck and some trailers , we have export to many port city such as dar es salaam ,dubai,ect.
Brief introduction of steel repair workshop building:
The steel structure repair workshop mainly used in the transport company for the repairing of the truck and some trailers, we have export to many port city such as dares salaam, dubai, ect. And we also can build multi-floors repair workshop building, it will save much cost and construction time than concrete workshop buildings. Metal building workshop, metal workshop buildings, steel workshop garage.
The steel repair workshop building in the pictures were designed, constructed and installed by EHSS who are professional and practical in designing, processing and installing. You may give us your own drawings to enable us construct as per your request or you might just give us your ideas, we can design the project based on your ideas. Welcome to contact us for anything you needed.
How to install: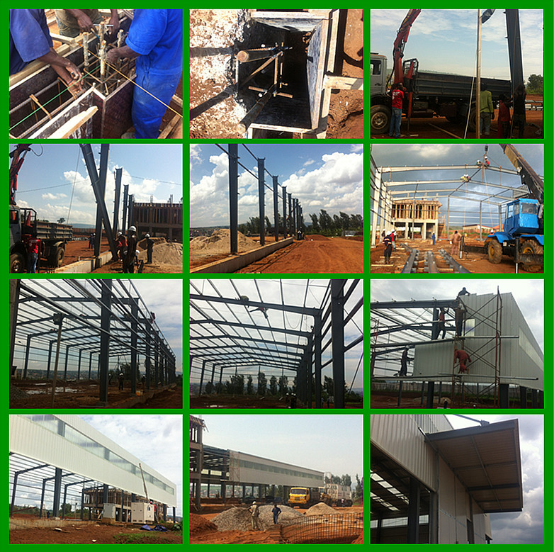 Steel structure installation of main axis control size, elevation, verticality, high strength steel columns and roof beam fixed bolt connection quality and feet. Axis dimension control in steel column centerline based positioning line deviation of control in less than 5mm. The perpendicularity of the steel column is controlled by a theodolite deviation control in less than 10 mm, submitted to the supervision of the reinspection before installation of roof beam. High strength bolt installation mainly control applied to screw torque value and order, please when installation supervision station supervision or owner. Level of the roof support, support to tension between pillars, but not too loose or too tight, in case of pull frame tilt. Roof purlin installation quality mainly through brace to control the straightness. Steel column foot fixed using double nut and tighten, bolt end thread play MAO or spot welding to prevent loosening.
Please feel free to give your inquiry in the form below. We will reply you in 24 hours.