Steel Structure, Large Span Workshop, Prefabricated Workshop manufacturer / supplier in China, offering Prefabricated Workshop, Construction Light-Engineering Prefab Steel Structure House, Factory Sale Steel Structure Frame Warehouse Building and so on.
Fabrication of steel column
1 .When start to fabricate steel columns, the first of the actual size according to the drawing release a variety of model of parts processing cutting, shearing, H, wing plate adopt numerical control cutting, web reinforcement plate, connection plate after the shear burr polishing (must rectify all, piece), column top and bottom end stigma adopts semi-auto cutting, grinder grinding level off is smooth, after polishing is similar to milling flat base. On the basis of this assembly in the column above the floor, roof, steel plate, plate connecting the shearing the burr after polishing.
2.Column combination h-beam, wing plate must be connected to it of three boards about 30-50 mm wide, grinding welds then Fang Kehua centerline, three boards combination connection into H.
3. Column combination h-beam, must connect the three boards stick, web and flange centerline deviation must be according to the construction and acceptance of the steel structure engineering.
4. Column after welding is good, you must repair the defects of the rear assembly.
5. Column and of high strength bolt connection between roof board, pay special attention to make correction after the welding process, slightly rough to meet the close degree, and make the whole correction.
Production line for steel structure: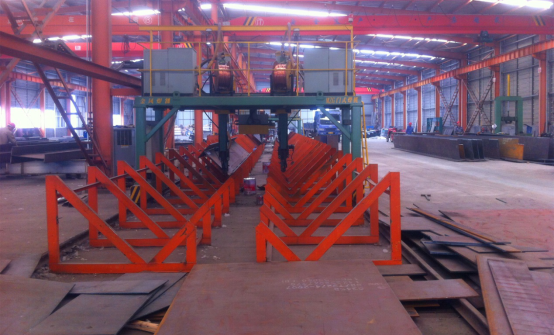 Main information of the project:
(1) Roof: the roof plate is made of 0.5 mm single color steel plate and heat preservation cotton.
(2) Raw material: the project main steel material for Q345 steel purlin using C steel Q235, specifications C300X85X20X2. 5, support and roof horizontal support between pillars using Q345 steel, other materials that support and did not indicate the material of Q235B.
(3) High strength bolt: the 10.9 -magnitude hexagon head bolts, the contact surface USES the sandblasting, resistance to sliding coefficient of 0.5 or higher, no paint or dirty;
(4) Weld quality: steel frame (including roof beam) of artifacts and flange plate butt weld according to standard (GB50205-2001) level of weld seam inspection; All weld in steel frame (including roof beam) according to standard (GB50205-2001) in the secondary weld inspection; The rest are at level 3 weld inspection (GB50205-2001);
(5) Paint: all of the surface of the steel are demanding derusting, derusting quality standards to Sa2.5 level, cleaning standard according to the national standard GB8923-88.Paint, within the scope of the high strength bolt connection component surface shall not be painted, after being installed and anti-corrosion treatment, primer with red lead antirust paint two, intermediate paint the dark grey oily mixed paint, paint USES the fireproofing coatings
(6) Fire: fire protection of steel structure c class level 2, fire-retardant coating and paint systems. The color of the paint according to the requirement of building professional.14.3.3 in its thickness should be consistent with GB50205-2001 stipulates: the thickness of fire retardant coating with thin coating should be accord with the requirement of the 2 hours fire resistance design. Thick type coating fireproof paint coating thickness and area of more than 80% and shall comply with design requirements of fire resistance, and the thinnest thickness should not be less than 85% of the design requirements.
Please feel free to give your inquiry in the form below. We will reply you in 24 hours.